2 Day | Mountain Ridge Elephant
2 Day | Mountain Ridge Elephant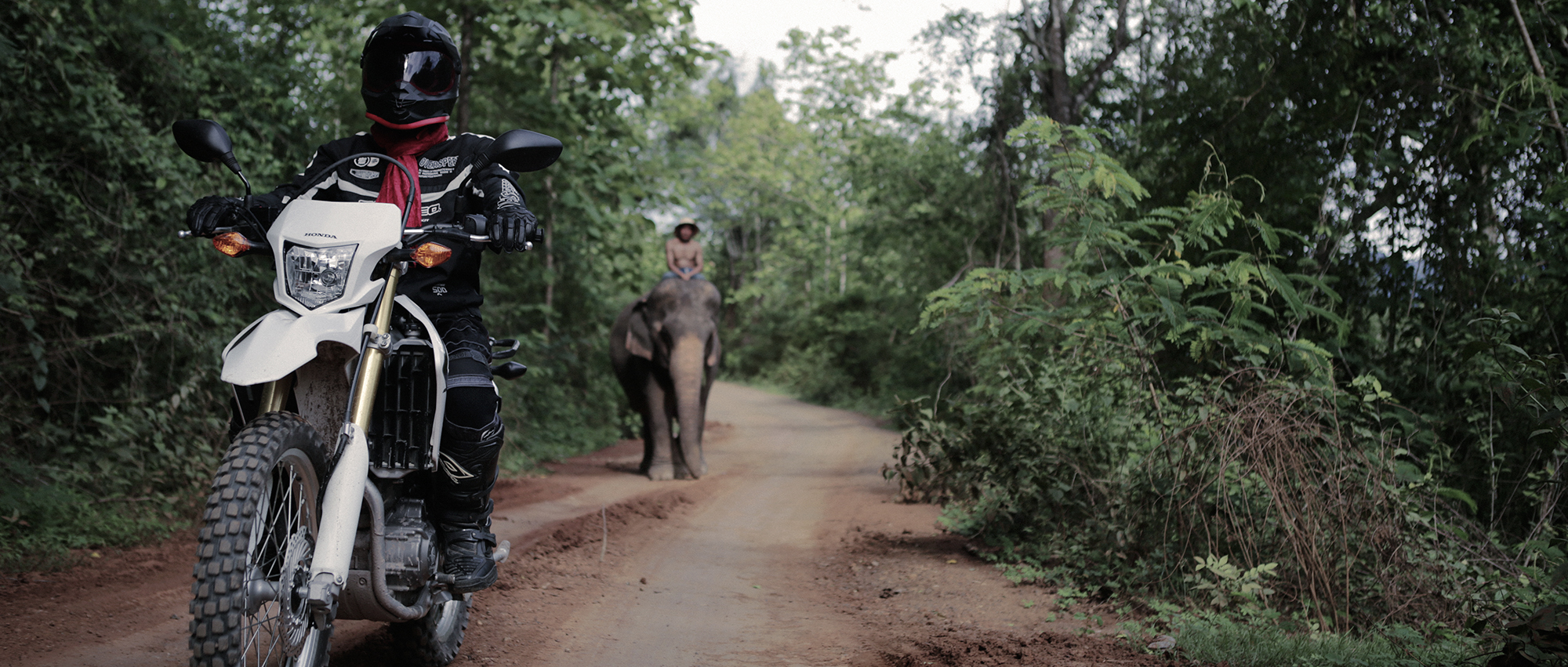 Venture through lush mountains, bustling markets, and meet Lao elephants
LEVEL Intermediate – Experienced
DISTANCE Approx. 300 km
TERRAIN 60% off-road (Day 1), 90% off-road (Day 2)

DAY 1
|
LUANG PRABANG – HONGSA
Your motorcycle expedition starts in Luang Prabang before you drive out to view the famous Kuang Si waterfall. This waterfall is a landmark destination in Luang Prabang due to its sheer size and turquoise-colored water. The terrain on this leg of the tour consists of mountainous dirt roads before you approach Muang Nan to experience village life. There are over 49 official recognized ethnic groups in Laos, and you can meet the Khmu or Lao Loum in Muang Nan. After interacting with local people, you will ride your motorcycle out to Sayabouri, a charming town filled with many temples and surrounded by beautiful limestone mountains. If your tour is in February, you may be able to experience their annual Elephant Festival, which attracts over 50,000 visitors from surrounding areas. After a quick stop at Sayabouri, you will continue your voyage to the northwestern town of Hongsa. You will be accommodated at a comfortable guest house in Hongsa, and enjoy delicious Lao cuisine.
DAY 2 | HONGSA – SAYABOURI – MUANG NAN – KUANG SI – LUANG PRABANG
As the sun rises the next morning, you will traverse through the bustling Hongsa market and observe vegetables, fruits, and various Lao food on display. You will continue your motorcycle adventure by riding out on scenic, dirt mountain roads where you may encounter a few elephants. You will then proceed toward Luang Prabang, including a stop to enjoy a traditional Lao meal and experience the welcoming spirit of those living in nearby villages. Your two-day journey ends after you cross the Mekong by ferry back into Luang Prabang.
PRICE (USD) 1 PAX pp $500.00 | 2 PAX pp $440.00 | 3 PAX pp $400.00 | 4+ PAX pp $360.00
TOUR CODE: MTO-2-C

– Professional tour guide
– Motorbike: Honda CRF250L or YAMAHA XT 125
– Riding equipment (Helmet, gloves, boots, jacket, etc.)
– Breakfast
– Third person insurance
– Gasoline
– All sightseeing as described in program above
– Accommodation in hotel/guesthouse (Twin shared)
– Admission fees to sights described above
– Lao PDR government tax and service charge


– Riding pants (we recommend a pair of jeans)
– Personal insurance (this at your own risk)
– Coverage for any damages to gear or the motorcycle
– Lunch, Dinner and any alcoholic beverages
– Air ticket
– Visa fee (approximately US$30/person, depending on nationality)
– Travel insurance of any kind
– Tip, drinks, personal expense and other expensive not described in the
program above
– Single room surcharge on request.

Back to tours
Ask a Question