6 Day | Jars and Caves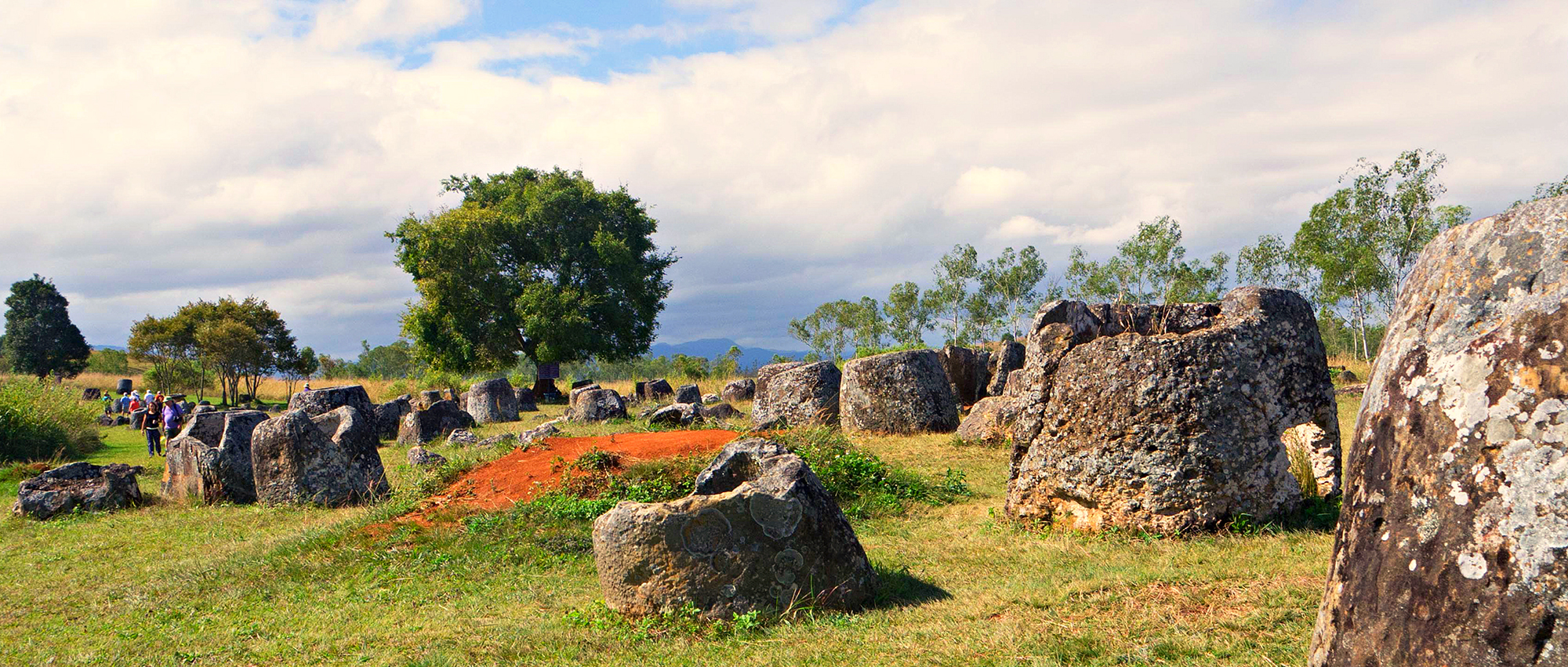 A stellar ride along jungle trails, to the Plain of Jars, and to underground war caves
LEVEL Experienced
DISTANCE Approx. 900 km
TERRAIN 80% off-road (Day 1), 60% off-road (Day 2), 80% off-road (Day 3), 90% Tarmac (Day4), 30 %off road (Day 5), 25% off road (Day 6)
DAY 1 | LUANG PRABANG – MUANG NAN – LUANG PRABANG
We will begin this tour by riding out on a loop around the mountains located just north of Luang Prabang over the Mekong River. We will visit Kacham Waterfall and an ethnic Hmong village and ride along some superb mountain trails. On the way back to town, we will stop by the majestic Kuang Si Waterfall. This waterfall is one of the most famous in the entire province, and should not be missed on your journey in Laos. At the Kuang Si Waterfall, we can take a dip in the turquoise water, and visit the Free the Bears rescue center.
DAY 2 | LUANG PRABANG – PHONSAVANH (B)
Now that we caught a glimpse of what Luang Prabang has to offer, we will ride on dirt trails heading south towards Phonsavanh, known as the "hills of paradise" in Lao. Some stunning mountain trails give way to a wide open track through the beautiful countryside with ferry crossings and remote villages. Phonsavanh is home to the famous 'Plain of Jars', a megalithic archeological site that cannot be missed.
DAY 3 | PHONSAVAN – VIENGTHONG (B)
Today features single trail sections that ascend and descend into bamboo tunnels. The route to Vieng Thong has some challenging twist and turns that will take us up to the old United States' air base, LS36, and to the steel drum village of Ban Na Kood. After enjoying a natural Hot Spring, we will spend the night in Vieng Thong.
DAY 4 | VIENGTHONG – SAM NUEA – VIENGXAY (B)
In Sam Neua, we will visit the Viengxay Caves, or the 'Victory caves' as some refer to it. These caves feature an extensive underground network of tunnels in the Limestone Mountains that were used by the Pathet Lao during the Vietnam War to run their operations and to hide from American bombing missions.
DAY 5 | VIENGXAY – SAM NUEA – VEINGTHONG (B)
Today will almost completely be off-road as we wind our way past the most secret mountain in Laos: Lima Site 85. This area was used by the Hmong 'secret army', the CIA, and the United States Air Force during the Vietnam War. Riding a motorbike through this area is inspiring as it features some of the best trails through the valleys of picturesque mountain ranges. We will stay overnight in Vieng Thong.
DAY 6 | VIENGTHONG – LUANG PRABANG (B)
After breakfast, we will head back along routes through the countryside with a mixture of trails through some more remote sections of the country. This is a big day with at least 175 kilometers of off-road riding, river crossings and challenging trail through the mountain before returning back to base in Luang Prabang.
PRICE (USD) Please contact us for current pricing and specials.
TOUR CODE: MTO-6-ADV
– Professional English Speaking Guide
– Dirt Bike – Honda CRF250
– Riding Gear (Helmet, Glove, Boot, Jacket and Protection Gear)
– Third person insurance
– Accommodation as described in the itinerary
– Meal (s) as described in the itinerary (B=Breakfast, L=Lunch, D=Dinner)
– Gasoline
– Entrance fee as described in the itinerary
– Tax, service charge and permits

– Riding Long Pants (we recommend a pair of jeans)
– Personal insurance (this at your own risk)
– Coverage for any damages to gear or the motorcycle
– Air ticket
– Visa fee (approximately US$30/person, depending on nationality)
– Travel insurance of any kind
– Tip, drinks, personal expense and other expenses not described in the itinerary
– Single Supplement for Single Occupancy
Back to tours
Ask a Question
[contact-form-7 id="3151″ title="Ask a question tours EN"]