1 Day | Mekong Elephant Tour
1 Day | Mekong Elephant Tour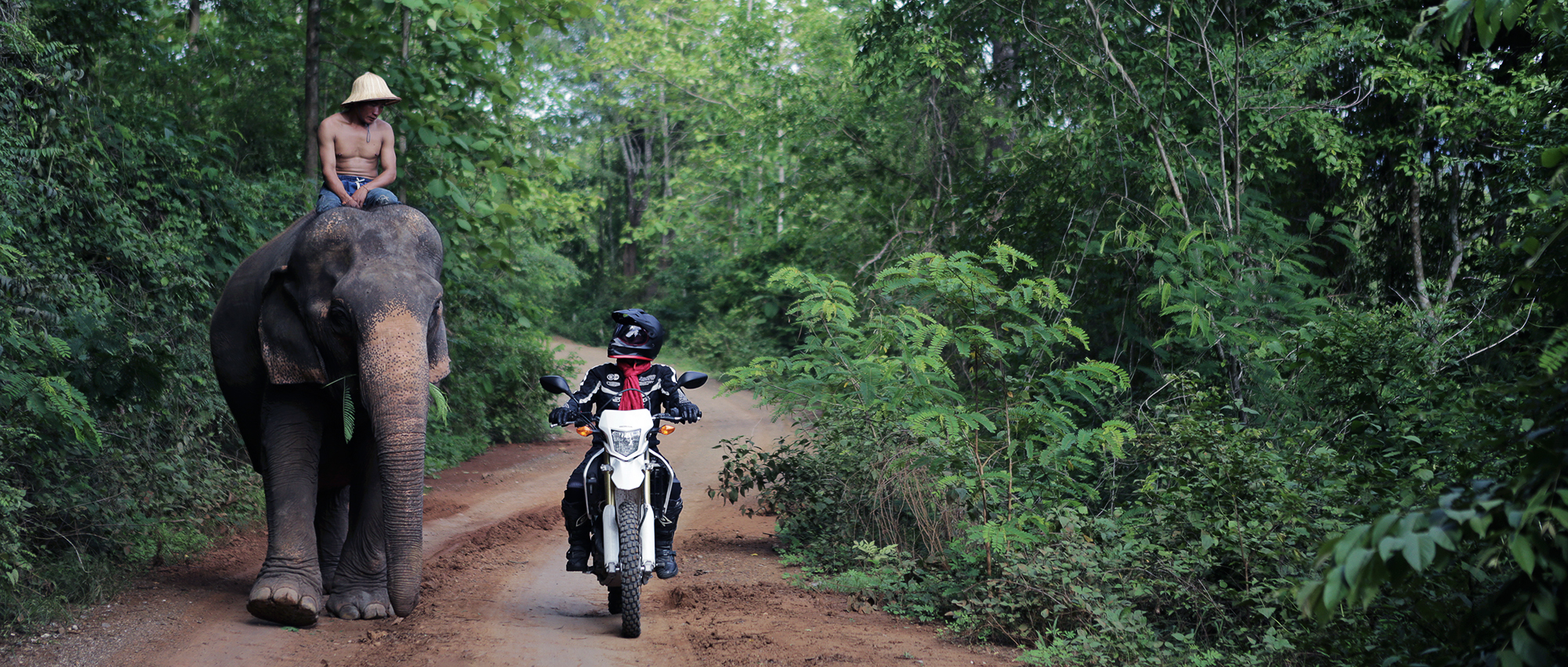 A splash of diverse cultures and elephant encounters
LEVELBeginner – Intermediate
DISTANCE Approx. 120 km
TERRAIN 80% off-road
Your motorcycle journey begins in Luang Prabang before crossing the mighty Mekong River on a ferry. You will drive out of Luang Prabang along dusty roads to experience local villages far removed from the city. Located in the heart of Southeast Asia, Laos is one of the most ethnically diverse counties in the world. Out of 49 officially recognized groups, you will be able to meet both the Khmu and Hmong ethnic groups in their villages. These groups each have their own distinctive language, culture, and heritage. The highlight of this motorcycle tour is a stop at a beautiful elephant camp on your way back to Luang Prabang. At this camp you can ride, feed, and befriend these big elephants. Laos was once known as Lan Xang, or "land of a million elephants". You should not leave Laos without interacting with these friendly giants! Your Mekong elephant motorcycle tour concludes once you arrive back in Luang Prabang.
PRICE (USD) 1 PAX pp $250.00 | 2 PAX pp $220.00 | 3 PAX pp $200.00 | 4+ PAX pp $180.00
TOUR CODE: MTO-1-B
Back to tours

– Professional tour guide
– Motorbike: Honda CRF250L or YAMAHA XT 125
– Riding equipment (Helmet, gloves, boots, jacket, etc.)
– Breakfast
– Third person insurance
– Gasoline
– All sightseeing as described in program above
– Accommodation in hotel/guesthouse (Twin shared)
– Admission fees to sights described above
– Lao PDR government tax and service charge


– Riding pants (we recommend a pair of jeans)
– Personal insurance (this at your own risk)
– Coverage for any damages to gear or the motorcycle
– Lunch, Dinner and any alcoholic beverages
– Air ticket
– Visa fee (approximately US$30/person, depending on nationality)
– Travel insurance of any kind
– Tip, drinks, personal expense and other expensive not described in the
program above
– Single room surcharge on request.

Ask a Question