2 Day | Nong Khiaw Expedition
2 Day | Nong Khiaw Expedition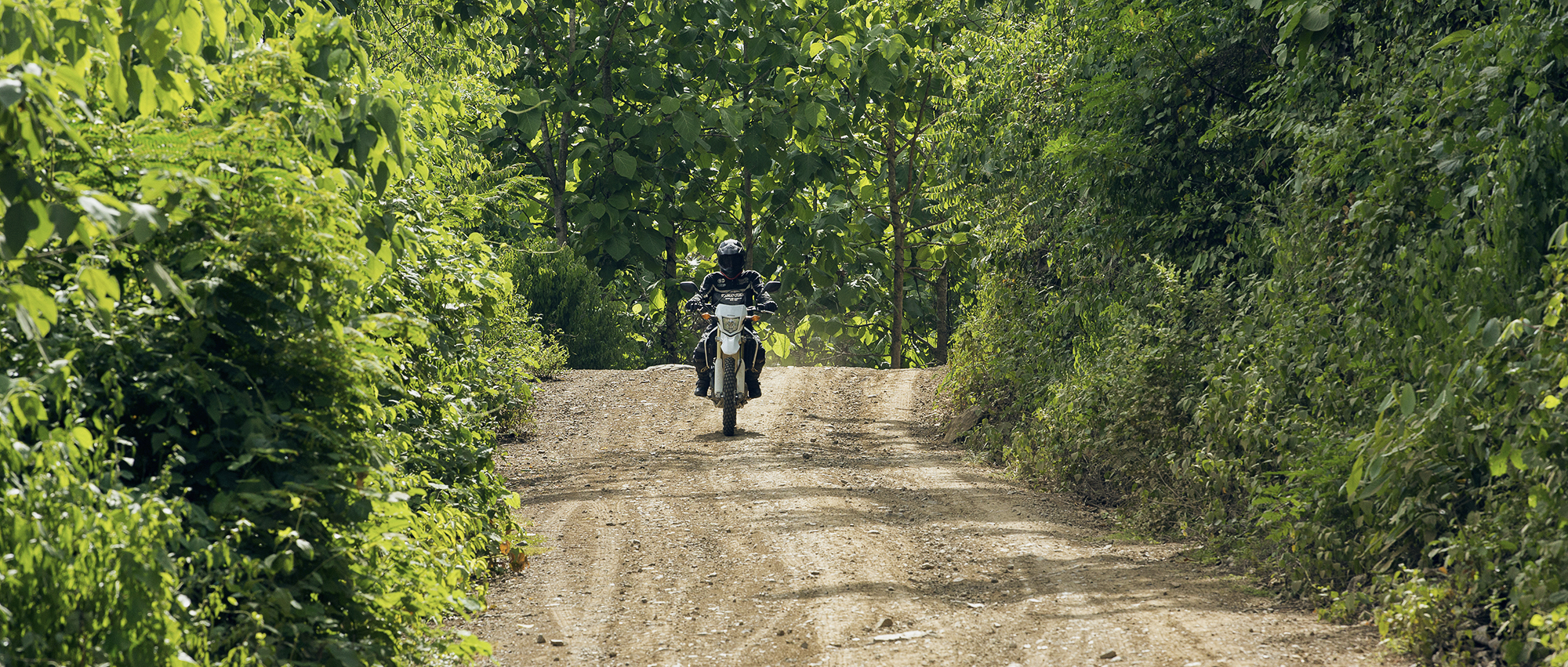 A journey through mountains, caves and beautiful villages
LEVEL All riders
DISTANCE Approx. 380 km
TERRAIN 50% off-road
DAY 1 | LUANG PRABANG – PAK OU – BAN NAGNAN – NONG KHIAW
Your motorcycle journey commences in Luang Prabang as you head up north toward Nong Khiaw on extensive dirt and asphalt roads. This is a thrilling ride into the countryside with scenic landscapes. You will get to visit the Pak Ou caves, a historically important site for Buddhism. There are more than a hundred tiny statues in this cave of the Buddha deity. The various Buddha sculptures are in positions of meditation, teaching, peace, rain, and reclining. After the caves, you will ride out on your motorcycle toward Ban Nagnan to observe the continued tradition of silk weaving and silk dying from natural materials. Your night consists of an authentic home stay with a local individual in Ban Nagnan, where you will enjoy freshly cooked Lao food and have a deeper understanding of their unique way of life. If you are not interested in the home stay experience, we can accommodate you in a nearby guest house in Nong Khiaw.
DAY 2 | NONG KHIAW – VIANG KHAM – PAXENG – LUANG PRABANG
The next day of your motorcycle journey involves riding out on scenic mountain ridges from either Ban Nagnan or from Nong Khiaw. You will pass along winding roads near the Nam Ou River. The Nam Ou is one of the most important rivers in Laos because it is the only channel that runs from northernmost province of Phongsaly to Luang Prabang. You will pass by open farmlands and plantations on your journey through villages back to Luang Prabang.
PRICE (USD) 1 PAX pp $500.00 | 2 PAX pp $440.00 | 3 PAX pp $400.00 | 4+ PAX pp $360.00
TOUR CODE: MTO-2-A

– Professional tour guide
– Motorbike: Honda CRF250L or YAMAHA XT 125
– Riding equipment (Helmet, gloves, boots, jacket, etc.)
– Breakfast
– Third person insurance
– Gasoline
– All sightseeing as described in program above
– Accommodation in hotel/guesthouse (Twin shared)
– Admission fees to sights described above
– Lao PDR government tax and service charge


– Riding pants (we recommend a pair of jeans)
– Personal insurance (this at your own risk)
– Coverage for any damages to gear or the motorcycle
– Lunch, Dinner and any alcoholic beverages
– Air ticket
– Visa fee (approximately US$30/person, depending on nationality)
– Travel insurance of any kind
– Tip, drinks, personal expense and other expensive not described in the
program above
– Single room surcharge on request.

Back to tours
Ask a Question