5 Day | The Grey Elephant
5 Day | The Grey Elephant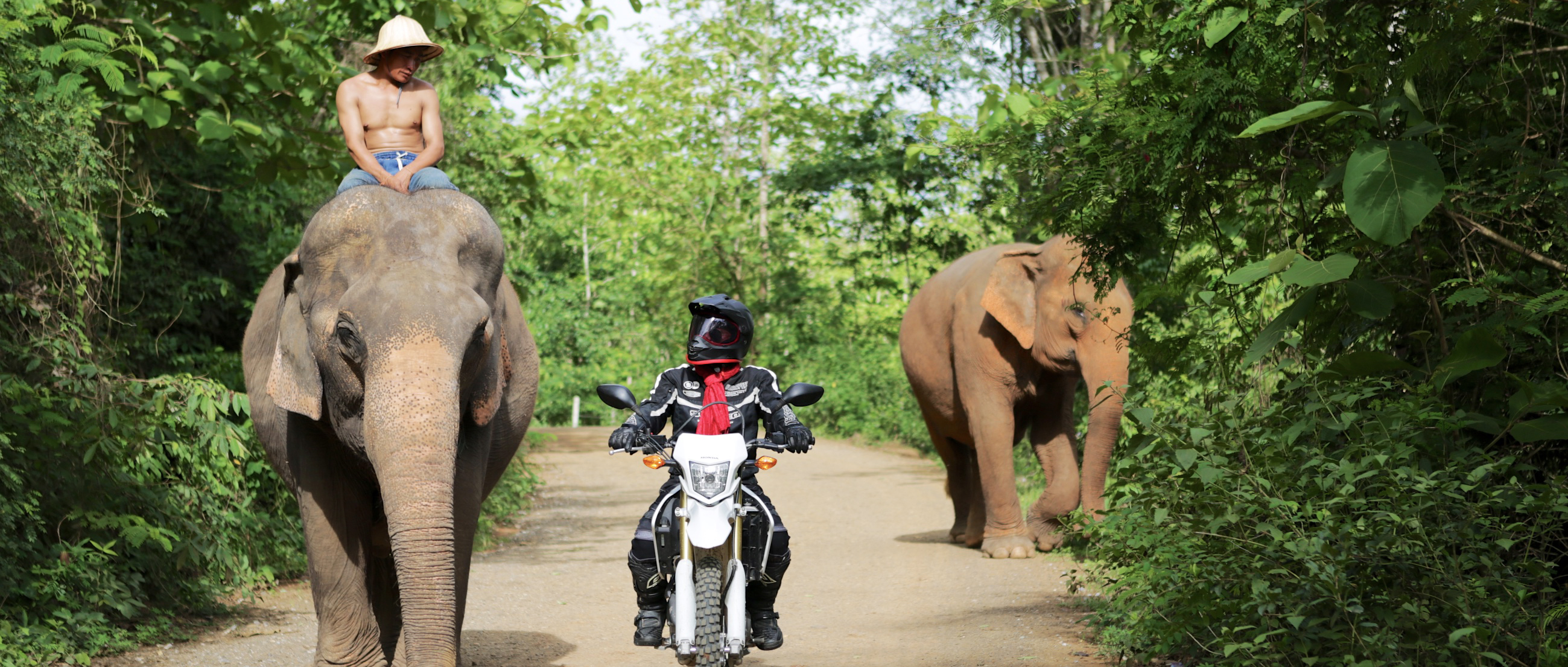 A heroic, off-road journey through mountains, local villages, and winding rivers
LEVEL Intermediate – Experienced
DISTANCE Approx. 881 km
TERRAIN Off-road 70% (Day 1), Off-road 90% (Day 2), Off-road 40% (Day 3), Off-road 70% (Day 4), Off-road 70% (Day 5)
DAY 1 | LUANG PRABANG – PAXENG – VIENG KHAM – NONG KHIAW – BAN NAGNAN
On the first day of your motorcycle tour, you will embark from Luang Prabang through dirt roads along the small Nam Saung River up to Paxeng. From Paxeng, you will make an adventurous climb on your motorcycle through dramatic mountain ridges that overlook the vast landscape of Laos. You will soon reach tar roads as you venture to Vieng Kham, a quaint little town with vibrant people living there. After enjoying traditional Lao food, you will continue your route toward Nong Khiaw, and onto Ban Nagna, where you will observe the continued tradition of silk weaving and silk dying from natural materials. Your night consists of an authentic home stay with a local family in Ban Nagnan, where you will enjoy freshly cooked Lao food and have a deeper understanding of their unique way of life. If you are not interested in the home stay experience, we will accommodate you in a beautiful riverside hotel back in Nong Khiaw.
DAY 2 | BAN NAGNAN – MUANG KHUA
You will pick up on your route the following morning up to Muang Khua for some of the best off-road experience in Laos. Located up in the mountains of Laos, Muang Khua is home to the Akha ethnic group. You will be invited into the home of a local family for an unforgettable home stay experience. The family will prepare traditional meals for dinner and breakfast, and you will gain a deep understanding and insight into the culture and remarkable history of the Akha group.
DAY 3 | MUANG KHUA – LUANG NAMTHA
After finishing your breakfast, you will ride out on your motorcycle toward Luang Namtha. This route features some breathtaking scenery and gorgeous landscapes along the way. If you arrive at Luang Namtha early, you can explore their bustling markets, or take a boat ride along the Namtha River (price not included). Your accommodation for the night will be at a local guest house.
DAY 4 | LUANG NAMTHA – PAKBENG
On the fourth day, you will embark toward Pakbeng along winding, dirt roads. You will travel through a diverse number of remote villages in this region. It will be a long day out on the bike, but the combination of pristine Lao landscapes and off-road riding make it well worth the trip. Pakbeng is a remarkable village with a temple in the hills that dates to the Kingdom of Lanna (Kingdom of a Million Rice Fields). Your day concludes in Pakbeng with an overnight stay at a local lodge.
DAY 5 | PAKBENG – HONGSA – LUANG PRABANG
On your final day, you will leave early from Pakbeng and ride out on your motorcycle through scenic landscapes toward Hongsa. Hongsa is a remarkable village that has a local market packed full of freshly prepared Lao food. From Hongsa, you will take high mountainous roads that wind through remote villages. Laos is an extremely diverse country with 49 different ethnic groups, and you will pass through Khmu and Hmong villages on the route toward Luang Prabang. Your five-day tour concludes after a ferry ride across the Mekong River back into Luang Prabang in the evening.

PRICE (USD) 1 PAX pp $1,250.00 | 2 PAX pp $1,100.00 | 3+ PAX pp $1,000.00
TOUR CODE: MTO-5-B

– Professional tour guide
– Motorbike: Honda CRF250L or YAMAHA XT 125
– Riding equipment (Helmet, gloves, boots, jacket, etc.)
– Breakfast
– Third person insurance
– Gasoline
– All sightseeing as described in program above
– Accommodation in hotel/guesthouse (Twin shared)
– Admission fees to sights described above
– Lao PDR government tax and service charge


– Riding pants (we recommend a pair of jeans)
– Personal insurance (this at your own risk)
– Coverage for any damages to gear or the motorcycle
– Lunch, Dinner and any alcoholic beverages
– Air ticket
– Visa fee (approximately US$30/person, depending on nationality)
– Travel insurance of any kind
– Tip, drinks, personal expense and other expensive not described in the
program above
– Single room surcharge on request.

Back to tours
Ask a Question