4 Day | The Northern Loop Motorcycle Adventure
4 Day | The Northern Loop Adventure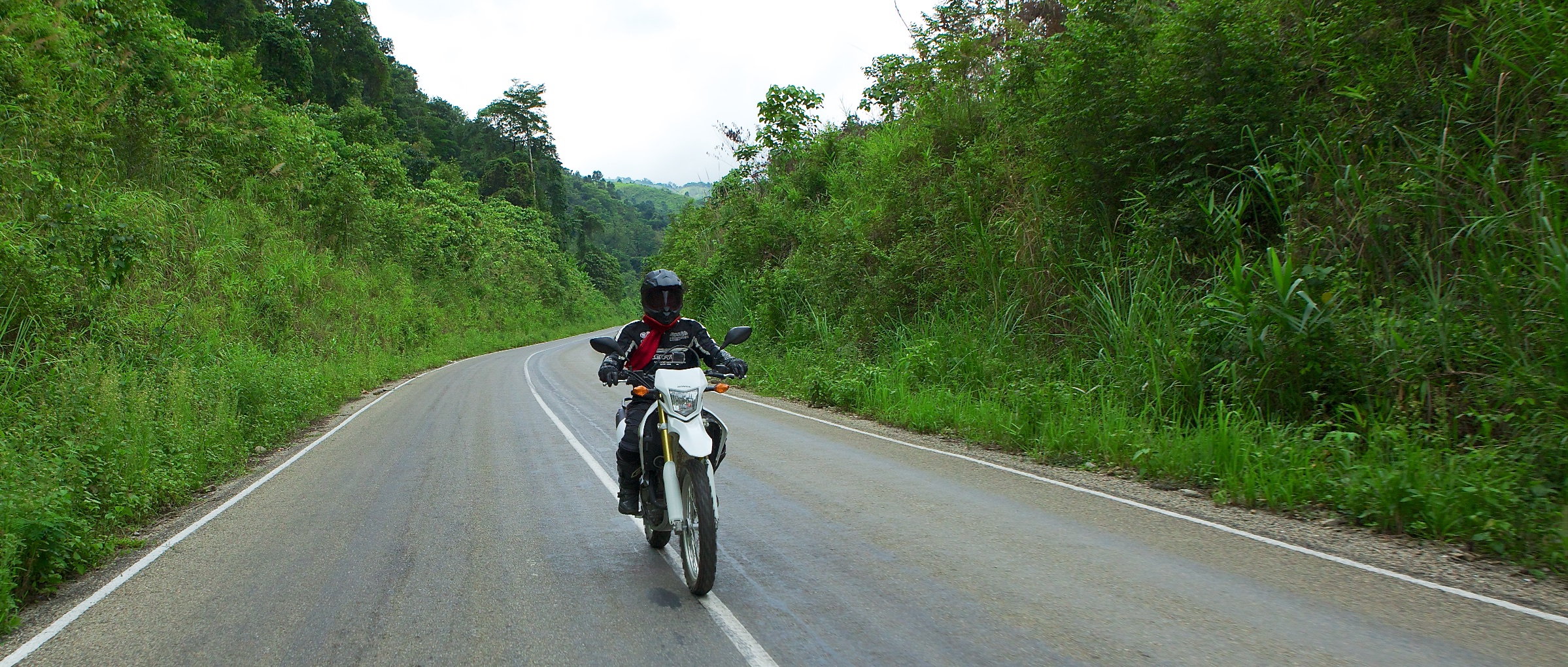 A grand journey of village life, historic caves, and vast landscapes
LEVEL All Riders
DISTANCE Approx. 830 km
TERRAIN 20% off-road (Day 1), On road (Day 2), 60% off-road (Day 3), 20% off-road (Day 4). Option of more Off-road is available for experienced rider.
TOUR CODE MTO-4-A1 (Homestay) or MTO-4-A2 (Guesthouse).
DAY 1 | LUANG PRABANG – PAK OU – NONG KHIAW – BAN NAGNAN
Your motorcycle tour begins in Luang Prabang before heading up north toward Nong Khiaw along some magnificent dirt and asphalt roads. You will cross the mighty Mekong River by ferry and visit the historic Pak Ou caves along the way. Thousands of Buddha sculptures have been added to the Pak Ou caves over the years, making it an important site for Buddhism. You will then continue your motorcycle ride toward Ban Nagnan, where you will observe the continued tradition of silk weaving and silk dying from natural materials. Your night consists of an authentic home stay with a local family in Ban Nagnan, where you will enjoy freshly cooked Lao food and have a deeper understanding of their unique way of life. If you are not interested in the home stay experience, we will accommodate you in a nearby guesthouse in Nong Khiaw.
DAY 2 | BAN NAGNAN – OUDOMXAY – LUANG NAMTHA
The next morning you will ride out through the breathtaking Lao countryside on tar roads to Oudomxay. This province is known its mountainous roads, providing a scenic adventure in Laos that cannot be beat. You can stop in any local village in Oudomxay, where you will enjoy a quick bite and meet friendly people willing to share stories with you. Once you arrive in Luang Namtha in the late afternoon, you will be accommodated for the night at a local guest house.
DAY 3 | LUANG NAMTHA – PAKBENG
The third day of your motorcycle tour begins in Luang Namtha, where you will take your motorcycle off-road toward Pakbeng. This leg of the journey is more challenging, however it is well worth it because you will be able to access local villages and remote towns that experience very few tourists. You can interact with friendly people who come from various ethnic groups along the way. When you arrive in Pakbeng, you will be accommodated at a comfortable lodge that is within walking distance to the Mekong River.
DAY 4 | PAKBENG – HONGSA – SAYABOURI – MUANG NAN – LUANG PRABANG
On your final day, you will leave early from Pakbeng and ride out on your motorcycle to Hongsa. Hongsa is a remarkable village that has two bustling markets packed full of freshly prepared Lao food. You will continue through Hongsa to Sayabouri, another fascinating town with ancient Buddhist temples and stupas. After Sayabouri you will traverse the Mekong River and drive through Muang Nan, a quaint village with hospitable people. On the final stretch back to Luang Prabang, your will ride out on dusty roads along the Mekong River with a few river crossings along the way. Your four-day motorcycle ride concludes once you arrive in Luang Prabang in the late afternoon.
PRICE (USD) – A1 (Homestay) Please contact us for current pricing and specials.
PRICE (USD) – A2 (Guesthouse) Please contact us for current pricing and specials.
TOUR CODE: MTO-4-A
– Professional English Speaking Guide
– Dirt Bike – Honda CRF250
– Riding Gear (Helmet, Glove, Boot, Jacket and Protection Gear)
– Third person insurance
– Accommodation as described in the itinerary
– Meal (s) as described in the itinerary (B=Breakfast, L=Lunch, D=Dinner)
– Gasoline
– Entrance fee as described in the itinerary
– Tax, service charge and permits

– Riding Long Pants (we recommend a pair of jeans)
– Personal insurance (this at your own risk)
– Coverage for any damages to gear or the motorcycle
– Air ticket
– Visa fee (approximately US$30/person, depending on nationality)
– Travel insurance of any kind
– Tip, drinks, personal expense and other expenses not described in the itinerary
– Single Supplement for Single Occupancy
Back to tours
Ask a Question
[contact-form-7 id="3151″ title="Ask a question tours EN"]